April is such an exciting time of the year for the MOSIC community. It signals the beginning of our Active April campaign, part of a fantastic state government initiative whose aim is to 'promote healthy and active lifestyles and get Victorians to join in the fun of increased physical activity.' This year MOSIC is offering a number of FREE events as well as participating as an organisation.
Visit the Premier's Active April website to find out more or sign up for you or your organisation.
For MOSIC, this means taking health and wellbeing to the next level. This year we will be focusing on three key elements to help deliver the best version of ourselves to the MOSIC community, every single day during April:
Exercising and moving every day

Further refining our healthy eating habits

Developing our mindfulness skill set
We'd love you to join us on this journey during the month of Active April and use this opportunity to take your health to the next level too. No matter what your current level of activity, the state of your diet or mindset, we all have the ability to refine and improve. It's always exciting to witness what your body can achieve and the positive impact this has on your life and the life of people around you.
Here's what MOSIC is offering for Active April this year:
TRY BODHI SUSPENSION FREE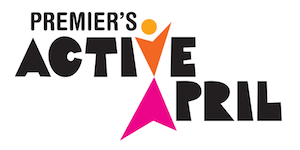 Join our talented Pilates instructor and Physiotherapist Hannah Donaldson for FREE Bodhi classes on Fridays at our Collins Street studio during April:
Friday 6th April 11.00am @ Collins Street
Friday 13th April 11.00am @ Collins Street
Friday 20th April 11.00am @ Collins Street
Friday 27th April 11.00am @ Collins Street
Bodhi classes are limited to three clients so bookings are essential. To reserve your place, please email our friendly reception team with the date you would like to attend (6, 13, 20 or 27 April):
[email protected]
UNDERSTANDING YOUR PAIN – FREE SEMINAR
Pain can be one of the most limiting factors when it comes to activity, movement and exercise.
Pilates instructor and Physiotherapist Hannah Donaldson will once again be presenting this wonderful FREE seminar during Active April:
Understanding your pain
An evening of education and workshopping

Tuesday 24 April – 7.00pm

Collins Street Centre

FREE
Register by email or phone: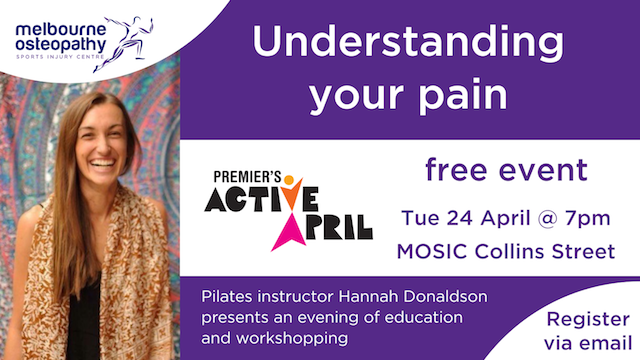 Traditional Chinese Medicine & Acupuncture Clinic
Traditional Chinese Medicine (TCM) and Acupuncture can be a great complement to your existing treatments and may even help you reach your goals faster. They are useful across a range of varied complaints including:
stubborn or persistent conditions

boosting performance and energy levels

fast pain relief for new injuries

low back, neck and jaw pain

headaches

women's health

insomnia or sleep disorders

digestive disorders
For the month of April, we are offering a special treatment clinic across two rooms at our Bourke Street Centre. Our fully qualified TCM, Acupuncture and Remedial Massage therapist Practitioners will be offering 45-minute treatment sessions for the introductory price of $80 for the month of April.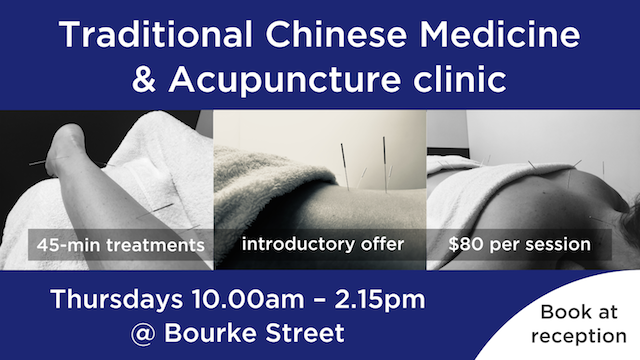 Ask your practitioner whether TCM/Acupuncture would integrate well into your current treatment plan.
45-min treatments include Acupuncture, TCM and Chinese Herbs (no massage). The TCM/Acupuncture will clinic will run weekly as follows:
Thursdays @ Bourke Street: 10.00am – 2.15pm
Contact our friendly reception staff if you'd like to book in:
By making these simple commitments to yourself, you will have more energy, clearer focus, a more stable mood, better sleep and smile more. Who wouldn't want that? Feel free to ask any of our staff for guidance about how to get the most out of your Active April. Book in for a consultation with one of our practitioners to set up your plan or get involved with one of our FREE events. We look forward to bringing you lots of great resources during this month to help keep you on track.