Welcome to our Golf Injury and Performance Centre- Your Destination for Golf-Related Health and Performance
Our Golf Injury and Performance Centre combines an Osteopathic approach with golf-specific biomechanics to provide a unique perspective to golf-related injuries 
"If I had an hour to solve a problem I'd spend 55 minutes thinking about the problem and five minutes thinking about solutions." – Albert Einstein
We spend more time understanding the problem, so that we can more effectively deal with challenging and complex problems.
We believe that every golfer is an individual, and as such, has an individual swing. We don't follow rigid rules or structures, but rather we flexibly adapt our approach to help you optimise your own unique swing.
Anyone who has pain on the golf course:


Maybe you've seen people before to help your pain, but as soon as you go back out and play the pain comes back? We will address the root cause of your issues occurring within your game, to provide long-term solutions. 
Anyone who is having trouble getting their body to execute or stick to swing changes:


Have you seen coaches, watched youtube videos, but you can't seem to get your body to achieve certain movements in the golf swing? We can help to resolve the limitations in your physical capacity, to facilitate a greater ease in technique change. 
Anyone who is looking to optimise the body's capacity to function in the golf swing, and in walking around the course:
By focusing on mobility, co-ordination and conditioning, we are able to assist you in getting the best out of your own golf swing.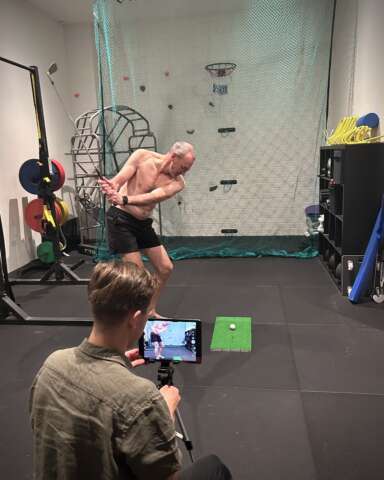 Injury and golfing history:

We take the time to sit down and understand your pain, your goals, and the specifics around your golf game, in order to create a deep understanding of the problem you're presenting with.

Gait analysis:

Given that we walk around the golf course, we first look to understand how you move across the ground, to screen your movements, and to understand whether this is influencing your painful presentation.

Golf swing analysis:

We will break down your golf swing via slow motion video analysis to understand where in inefficiencies and limitations in your golf swing occur.

Golf-specific movement assessment:

We will then perform a functional golf screen.

Tailored treatment plan: We will then implement a truly tailored plan, which is based on your individual needs, abilities and swing characteristics.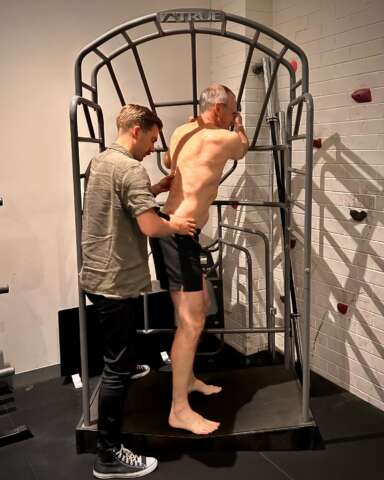 Schedule an Appointment With Our Experienced Practitioners!
Meet your team
Lead by:  Senior golf practitioner Dr David Sokoloff
Dave believes the most valuable information comes from understanding how his patients interact with their environment through movement. As such, Dave's sessions utilise manual therapy, rehabilitation and education, all whilst in the specific positions and context in which pain occurs.
If you would like any further information on golf injury or to book an appointment then please contact us on: