Pilates at MOSIC
Specialising in the Pilates method, Melbourne Osteopathy Sports Injury Centre (MOSIC) is a leading edge studio with an aim to provide our CBD clients with an outstanding Pilates experience. Our instructors work closely with our Osteopaths, Myotherapists and Remedial Massage Therapists to provide our clients with a multi disciplinary approach to achieve the best results possible.
What Is Pilates?
"Pilates develops the body uniformly, corrects wrong postures, restores physical vitality, invigorates the mind, and elevates the spirit" 
– Joseph Pilates, creator of the Pilates method
Pilates is a method of physical and mental conditioning developed by Joseph Hubertus Pilates. It utilises the mind-body connection and challenges the body to work in optimum movement patterns by implementing its 6 principles:
Centering
Control
Concentration
Breath
Precision
Flow
By following these principles the person becomes aware of their body allowing them to improve posture, rehabilitate from injury, and enhance sporting performance; just to name a few of the benefits.
Our MOSIC instructors provide clients with a great diversity of exercises on the mat and equipment adding variety in each workout and allowing Pilates to be practiced by anyone and everyone.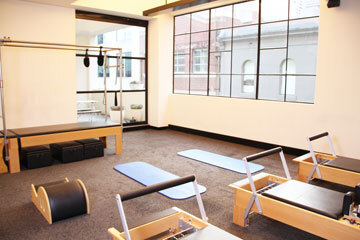 Pilate Classes Melbourne
We offer a range of Pilates and Group exercise rehab classes at our Bourke Street centre. Please contact us to find out what type of class would be most suitable for you.
Pilates Reformer Classes
Our studio is fully equipped with Pilates reformers, trapeze table, Wunda chair, and ladder barrel, as well as an extensive number of small apparatus that can be incorporated in to your workout. Your exercise program will be custom designed for you in an initial assessment session, where we will analyse your posture, muscle balance, strength and flexibility. We will then design a perfect program to suit your goals which will evolve over time as you become stronger and more flexible, or as your needs and goals change.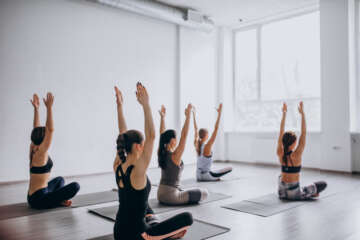 Who Can Benefit From Our Studio Pilates
Pilates is suitable for beginners through to elite sportspeople. Movements and intensity can be adapted easily to suit different body types or levels of fitness and experience, making it safe for everyone. In order to deliver the maximum benefit from Pilates practice, we tailor each program to the individual.
Pre and Post Natal Pilates
Pilates is a great form of exercise during pregnancy and it provides many benefits. These include relief from back pain, posture changes and improved breathing techniques to aid in calming nerves and easing labour pains. All exercise is undertaken in a safe and comfortable environment. Post-natal Pilates can help to achieve a toned, stronger mid-section and help shed baby weight quicker whilst helping with the demands of motherhood.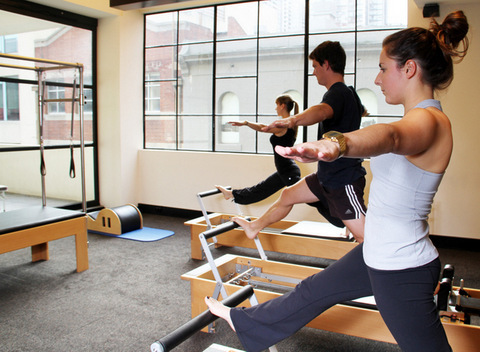 Pilates for Rehabilitation
Pilates equipment allows for a gradual increase in resistance and movement to ensure that exercise is safe for clients recovering from injury or managing chronic conditions. Our Pilates instructors work closely alongside our Osteopaths to design a program that will achieve the best results for our clients.
Pilates is a great form of exercise for all types of athletes from Ballet dancers to AFL players. Whether athletes are recovering from injury, or wanting to enhance their performance, Pilates is an excellent option.
For more Pilates information:
If you would like further information on pilates, please feel free to contact Melbourne Osteopathy Sports Injury Centre reception on (03) 9663 6202 or email: