Osteopathy For Triathletes
What is a Triathlon?
Triathlon is a multi-disciplinary sport consisting of swimming, cycling and running and usually performed in this order. Triathlon is raced over a variety of distances that can range from 'sprint' distance (750m Swim, 20km Cycle and 5km Run) all the way up to Ironman distance (3.9km Swim, 180km Cycle and 42.2km Run). The Olympic distance consists of a 1500m Swim, 40km cycle and 10km Run.
Common Triathlete Injuries
Given that triathletes compete over 3 different sports they typically experience a varied range of injuries. Common running injuries that can develop include plantar fasciitis, calf and Achilles pathologies and patellar femoral pain syndrome. Common cycling injuries that develop include patello femoral pain syndrome and patella tendinopathy as well as traumatic injures from falls such as broken collarbone or wrist. Common swimming injuries include rotator cuff pathologies, cervical facet strains and cervicogenic headaches.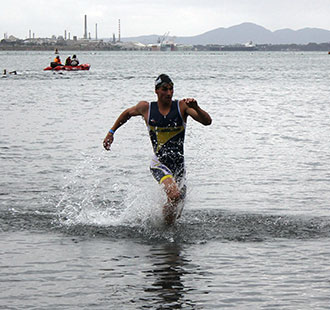 How Osteopathy can help Triathletes?
Training and competing in 3 different sports places a lot of strain on the body, causing things such as tight and sore muscle and joint and muscle imbalances which can lead to the aforementioned injuries. Osteopathy can treat the injuries and ailments that triathletes commonly suffer through a combination of soft tissue treatment, joint articulation and manipulation and ergonomic, training and rehabilitation advice. Osteopathy can also play an equally important role in the prevention of triathlete injuries.
If you want to book an Osteopathy treatment treatment, please visit our Online Booking Page.
If you would like to train for your first triathlon in just 4 weeks, check our blog to find out more!
How Pilates and Exercise Rehabilitation can help Triathletes?
The body works in 3 planes of movement: the frontal, sagittal and transverse plane. The three sports that triathletes compete and train for predominantly utilise the sagittal plane. This can lead to muscle imbalances and weaknesses in the other two planes. Pilates and Exercise rehabilitation for triathletes is directed towards better conditioning and strengthening of the neglected movement planes which can help prevent injuries and thus increase performance.
If you want to book a Pilates or Exercise Rehabilitation consultation, please visit our Online Booking Page.
How Remedial Massage can help Triathletes?
Due to the demand of training for the three sports of triathlon, a large amount of stress is placed on the body, which can lead to tight and fatigued muscles. Poorly managed muscle fatigue can decrease performance and increase the chance of injury. Remedial massage can help relieve the tight and sore musculature that triathletes commonly complain of, so they can get back to training quicker and more effectively.
If you want to book a Remedial Massage or Myotherapy treatment, please visit our Online Booking Page.
People to watch in Triathlon:
Alistair and Jonathan Brownlee (UK)
Javier Gomez (MEX)
Craig Alexander (AUS)
Pete Jacobs (AUS)
Courtney Atkinson (AUS)
Erin Densham (AUS)
Emma Moffatt (AUS)