Melbourne Osteopathy Sports Injury Centre offers a dedicated corporate health services package. Our team of professionals have a wealth of experience in providing tailored services to meet the unique needs of corporate clients.
Our corporate package includes access to experienced Osteopaths, Remedial Massage therapists, Pilates and Yoga instructors. Our aim is to encourage sustainable physical and physiological wellbeing as well as an improved quality of life in a contemporary and friendly environment perfectly suited to our corporate clients' needs.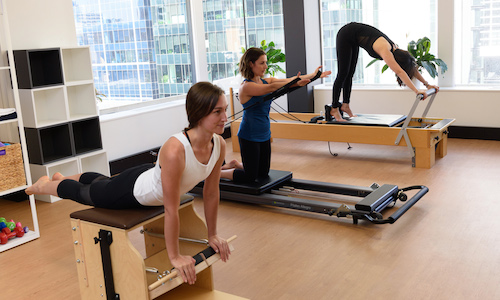 CORPORATE HEALTH PACKAGES
Located in the heart of Melbourne's CBD, our facilities feature comfortable treatment rooms, modern equipment and a beautiful light-filled Pilates studio. Our full range of health services are utilised by clientele as diverse as corporate professionals to professional athletes.
Workplace health is a very important issue for our corporate clients. The most common symptoms presenting are back, neck and shoulder pain, as well as the injuries that often result from prolonged sitting, the sedentary nature of an office environment, or extended travelling time.
Our treatments result in a reduction of these symptoms as well as an improved approach to posture, ergonomics, general health and wellbeing.
The benefits of our corporate program are both individual and collective. As well as improvements in work efficiency and output, reductions in time lost due to injuries, absenteeism and their associated costs are also realised.
We would be pleased to meet with you to discuss a corporate health program and answer any questions that you might have. We are happy to arrange a tour of Melbourne Osteopathy Sports injury Centre where you will get to meet our health professionals.
If you have any questions or wish to arrange a meeting please contact us on: