Welcome to Our MELBOURNE OSTEOPATHY Centre
Setting the standard for care in healthcare and working towards our vision of a healthier life for all
New Golf Injury And Performance Centre
Your Destination for Golf-Related Health and Performance.
WHY CHOOSE MELBOURNE OSTEOPATHY SPORTS INJURY CENTRE
We are among the most authentic, collaborative, experienced Melbourne osteopaths working to create an allied health organisation. We focus on genuine osteopathic treatment and long-term patient care, giving exceptional clinical results for our local patients and community.
Our collaborative approach means you'll work with one or many of our osteopaths in Melbourne teams/modalities. Choose whoever you're most comfortable with. We can support with many with a range of allied health modalities, including osteopathy, exercise physiology, podiatry, massage, and Pilates. This helps you achieve short-term pain relief and long-term results; we listen closely to your goals, coaching you on the journey to Sustained Health.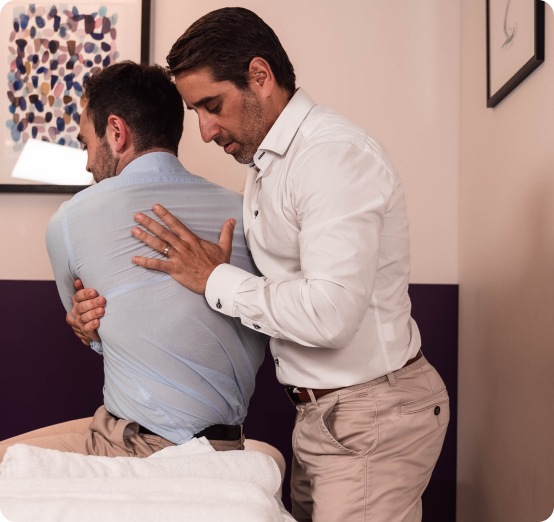 Who can Benefit from Osteopathic Treatment at Our Centre?
If pain, mobility issues, or aches impact your quality of life or independence, osteopathy and other services could help. Through treatment, rehabilitation, exercise advice and management plus a focus on lifestyle factors such as nutrition and sleep we are able to support and improve your conditions and injuries to achieve 'Sustained health'.

Desk-bound professionals
Being stuck behind a computer all day can leave your body sore. Our osteopathy consultations help reduce pain and aches in your back, shoulders, neck, headaches, and more, giving you more energy.

Acute Pain Sufferers
Acute pain is scary, but we'll guide you through this process to get you back to normal.

Chronic Pain Sufferers
Chronic conditions are immensely distressing. By treating the root cause, our chronic disease management plans and compassionate, guided support help enhance your overall health.

Fitness Fanatics
Work hard, train hard; this mantra can leave your body requiring treatment. We've seen it all, from gymgoers to runners, cyclists, swimmers, yoga and pilates fanatics, weight lifters, and hikers. We help you hit those PBs and keep you moving comfortably.

Aging Populations
Working with MOSIC helps inspire you to keep doing what you love in a safe environment, despite aging! Our extensive knowledge of osteoarthritis and its progression means we can adapt consultations for your needs with a safe and effective approach.

Tradies
Tradies work tirelessly; you need a reliable, experienced osteopaths to keep you going all day. We help you live a pain free life; meet your schedules without compromise.

Athletes
Sporting injuries can hurt your career. Stay at the top of your game by managing your injuries proactively. Our MOSIC team can guide and support you to achieve new PBs and boost your sports performance.
How can Osteopathy Treatment at MOSIC help you?
The best treatment plan in osteopathy should emphasise structural integrity. When your body is balanced, like a well-tuned engine, it functions with minimal wear and tear, leaving more energy for living.
​​We accept that everybody can auto-regulate and self-heal when facing illness through homeostatic balance. Our Osteopaths and other practitioners assist the body in activating this mechanism.
The benefits of visiting our Melbourne Osteopathy Sports Injury Centre include:

Pain Relief
We all want to enjoy life. So at MOSIC, we keep pain reduction at the forefront of our minds when meeting you. For all types of injuries and conditions we will try to help reduce your pain.

Improve Mobility, Posture, and Flexibility
Our osteopathy treatments help improve mobility and your overall function naturally. Don't let stiffness hold you back from living your best life!

Achieve 'Sustained Health'
Our services achieve long-term results for our patients by identifying the underlying cause of symptoms with an all-encompassing approach. This helps you find optimal health strategies to continue enjoying what you love.
HOW WILL MELBOURNE OSTEOPATHY SPORTS INJURY CENTRE WORK WITH YOU
From the first time you book an appointment to continued consultations, our caring, experienced, and compassionate team will make you feel at ease.

After your initial consultation, you'll know:

  Your Diagnosis
Our step-by-step plan for your success with MOSIC
Frequently Asked Questions
What is the length of each consultation?
Osteopathy: For Initial Consultations please allow 45 – 60 minutes. Return appointments are 30-minutes.
Remedial Massage / Myotherapy: Appointments can be 30, 45 or 60-minutes. For Initial Consultations at our clinic we recommend 45 or 60-minutes.
Pilates Initial Consultation: 60-minutes
Do I need a referral?
No. Anyone is free to make an appointment with our practitioners. Please call Melbourne Osteopathy Sports Injury Centre on (03) 9663 6202 if you are unsure about whether we can assist with your injury or complaint.
What qualifications do the practitioners / instructors hold?
Osteopathy: In Australia Osteopaths are required to undertake 5-years of full time study with a 3-year undergraduate degree in clinical science and a 2-year Masters in Health science. Osteopaths are required by law to be registered with the Australian Health Practitioner Regulation Agency (AHPRA) and with the Australian Osteopathy Association (AOA)
Remedial Massage: Practitioners are registered with the Australian Association of Massage Therapists
Myotherapy: In Australia Myotherapists are required to undertake an advanced diploma or a bachelor degree in Health Science (Myotherapy). Myotherapists are registered with the Institute of Registered Myotherapists of Australia.
Pilates Instructors: A recognised qualification in an approved Pilates course is required. At our clinic, all instructors have completed units in studio / reformer Pilates and rehabilitation in one of more of: Australian Pilates Method Association; Polestar Pilates; Stott Pilates; or Body Arts and Science International Pilates.
Are services covered by private health insurance?
What should I wear to an appointment?
For Osteopathy, Remedial Massage and Myotherapy: depending on the area of your body requiring treatment, your Osteopath may ask you to undress to your underwear. It's important that you feel comfortable, so you may want to wear loose pants or bring a pair of shorts to change into. Once on the table you will be draped with towels.
What should I bring to a consultation?
Please bring along any X-ray, Scan (MRI, ultrasound CAT etc), and blood test results you may have regarding the relevant concern.
Do I need to arrive early for my initial appointment?
It is advisable to arrive early to your initial consultation for all our services as you will be required to fill out a new patient form and sign an informed consent form. You can also download the form and complete it prior to your appointment in order to save time:
What should I expect during my initial consultation?
Sitting for prolonged periods can lead to lower back pain and stiffness, making it difficult to perform daily activities...
OUR LOCATIONS
We're conveniently located to help with patients across Melbourne with numerous osteo services. From low back pain to stiffness and more, we're proud to offer more comprehensive support than other osteos locally.