Weight Training / Crossfit
Weight training is used for developing the strength and size of skeletal muscles through using specialized equipment to target specific muscle groups and types of movement. Strength training is central to sports such as weightlifting, bodybuilding, shot put and javelin and has also become an integral part of many sports such as football, track and field, swimming, and hockey. CrossFit is a strength and conditioning program that uses high intensity shorter duration workouts of functional activities. It is a fast growing workout and lifestyle approach that began in the USA in 2000.
Common Injuries in Weight Training and CrossFit
People who lift weights commonly suffer injuries due to poor lifting techniques, lifting excessive weight or loading too quickly. Common injuries are rotator cuff and bicep tears and tendinopathies, low back disc injuries and ligament sprains, tennis elbow and wrist sprains.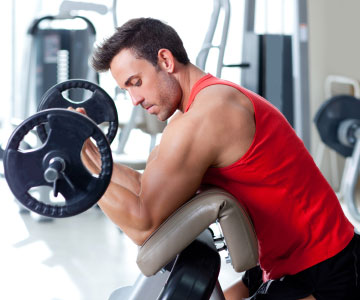 How Osteopathy can help your Weight Training and CrossFit?
Osteopathy helps to balance the bodies alignment and correct muscle activation when lifting weights. It improves joint range of motion and balance allowing for more efficient technique. In conjunction with exercise rehabilitation, Osteopathy will allow an injured CrossFit or Gym enthusiast to get back to training.
If you want to book an Osteopathy treatment, please visit our Online Booking
How can Pilates and Exercise Rehabilitation help your Weight Training and CrossFit?
It is essential for a person training with weights to have correct muscle balance and strength to get the most out of their training. A personally designed Pilates and/or exercise rehabilitation program is aimed at identifying muscle weaknesses and imbalances. A set of exercises and recommendations for training, is then formulated to help overcome your injury.
Find out more about Pilates and Exercise Rehabilitation or visit our Online Booking Page to book in a consultation.
How Remedial Massage can help your Weight Training and CrossFit?
Remedial Massage can help to decrease lactic acid build up, which accumulates with over training. Remedial massage can also help to elongate short, tight muscles and improve flexibility.
If you want to book a Remedial Massage or Myotherapy treatment treatment, please visit our Online Booking Page.