Competitive swimming is a sport that consists of four main strokes (freestyle, butterfly, breaststroke and backstroke) and is raced over distances that can vary from 50m up to 10 or more kilometers! Swimming can be conducted in the pool or in the open water. Swimmers use a myriad of training aids to help various parts of their stroke, these include; paddles, flippers, snorkels, buoys and rubber bands, just to name a few. Many people find swimming hard initially due the technical aspect of the various strokes, but after a little practice and instruction, anyone can swim well.
You can also check out our article about the fundamentals of freestyle or 'front crawl'.
Common Swimming Injuries
Given that up to 85% of the propulsion from each swimming stroke comes from the swimmers upper body, swimmers will commonly injure their upper extremities. Swimmers can suffer from injuries such as rotator cuff pathologies, shoulder and arm muscle strains, and cervical facet strains and headaches typically caused by improper stroke or breathing technique.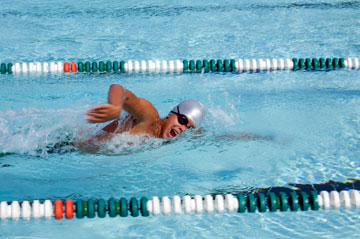 How Osteopathy can help your Swimming?
The most popular stroke is freestyle, which uses mostly the muscles on the front of the body. This can lead to muscle imbalances between the front and the back of the shoulders and arms and can lead to excess strain being placed on the soft-tissue structures potentially leading to pain and injury. Osteopathy can assist swimmers in the management of their pain and injuries through a combination of soft tissue treatment, joint articulation and manipulation and ergonomic, training and rehabilitation advice.
If you want to book an Osteopathy treatment treatment, please visit our Online Booking Page.
How Pilates and Exercise Rehabilitation can help your Swimming?
As eluded to before swimming can create many muscle imbalances throughout the body, Pilates and exercise rehabilitation can help alleviate these by focusing on strengthening and conditioning the stabilising muscles of the shoulder girdle and preventing muscle imbalances from occurring.
If you want to book a Pilates or Exercise Rehabilitation consultation, please visit our Online Booking Page.
How Remedial Massage can help Swimmers?
Swimming can fatigue the arms and shoulders quite significantly which can impact on a swimmers training and racing performance. Remedial massage can assist in muscle recovery for swimmers so that they can train and compete with less fatigue and better performance.
If you want to book a Remedial Massage or Myotherapy treatment, please visit our Online Booking Page.
People to watch in the swimming world:
James Magnusson (100m, 50m freestyle)
Stephanie Rice (Medley, Butterfly)
Melissa Gorman (long distance)
Ky Hurst (long distance)