Although often overlooked, men sometimes need a bit of help keeping their bodies virile and supple, ready to carry out a variety of requests ranging from the testosterone-crazed, to family duties and just being an all-round top bloke. Pilates is an effective form of exercise training for many of these requirements.
Despite this, Pilates studios are more often frequented by women. This might be because some women are little more open-minded or perhaps just because boys prefer throwing heavy stuff around. When I first started utilising Pilates for rehabilitation at the age of 17, I was one of only a few men in the studio. However, this trend has been changing over the last decade with more and more men coming to classes and enjoying the benefits of what Pilates can offer.
Although Pilates was created by a man, it was always designed to be applicable for everyone, regardless of their chromosomal orientation. Josef Pilates (born in Germany, 1883) had a vision of optimal health through physical exercise developed initially through his own practice. This vision was then further refined in the UK before and during WWI and later in New York City. This story itself is another amazing (but rather extensive) blog topic.
In may ways, Joe was a man's man. He could build stuff, he had ideas, he was a boxer, he loved to smoke cigars and for whatever reason (perhaps pride) he often taught his exercise method in little more than a pair of swimming trunks (think Speedos) – unless his more demure wife and co-creator Clara was working in the studio.
I hate to say it, but most men do what they love and not what they need to do. We don't enjoy getting preventative mole checks 'just because'. Love us or leave us, we have our problems…but Pilates can fix almost all of them and help us to become our best self.
DEVELOPING YOUR WEAKNESSES
The Pilates exercises are known for turning weak saplings into robust yet pliable specimens. Although some of the exercises may look a bit soft, incorporating the Pilates principles of precision and control make them real gut-busters. Leading AFL teams now recognise (and utilise) Pilates' benefits to develop the more subtle aspects of core strength and control that their players were not getting from existing strength and conditioning protocols.
CO-ORDINATION
Most guys didn't do ballet or gymnastics as a child and never experienced having the challenge of making a sporting move look really good! This means that we missed out developmentally on exercises and drills that most females may have enjoyed regularly. While we are great at producing a heap of force in a scrum, many of us are complete spuds when it comes to fine co-ordination based tasks. Pilates exploits these weaknesses, it develops your co-ordination ability and forces you to think about your own alignment and breathing – sometimes just so you don't fall off a piece of equipment looking like a novice! It's these co-ordination patterns that our body desperately needs help with to integrate functional exercise with daily human movement, reducing pain and improving efficiency.
MOBILITY
Most of my mates can ride 120km, run 10-15km and swim 1km easily…but they can't touch their toes. SHAME! Pilates doesn't actually involve 'stretching' but does utilise many movements to promote segmental mobility in the pelvis, trunk and limbs which provides useful flexibility and often helps us continue exercising as we age.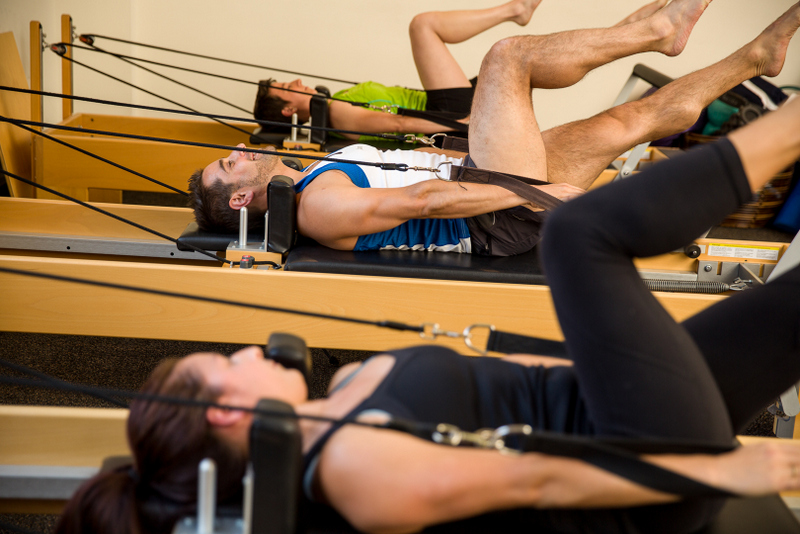 BODY AWARENESS
As noted above in relation to co-ordination, body awareness is not our forte. Body awareness is about knowing your current posture and then being able to move with co-ordination effortlessly into the next posture. Improving your body awareness also helps you be in control of your body and improves on-field strategic performance and all-round movement efficiency.
SEXUAL POWER
Pilates works with the deep abdominal stabilisers to control the trunk/pelvis and limbs, but the Pelvic Floor, which gets a workout in every Pilates session, is really a man's best friend. Building strength and endurance in your pelvic floor leads to improved sexual performance, better continence and is just one of the many neglected muscles that Pilates can assist with.
These days you will find men in most of our classes at Melbourne Osteopathy Sports Injury Centre. I encourage men to rebel against gender expectations and enjoy some exercise which feels good, makes you work hard and doesn't break your back actually, it will fix it. For further information about how Pilates can help you rehabilitate from an injury or just improve your everyday life, visit our Pilates website or contact any of our expert team.
Nicholas Psarros is a Senior Pilates Instructor at Melbourne Osteopathy Sports Injury Centre. He is a fully qualified member of the Pilates Alliance Australasia and also an Exercise and Sports Scientist with ESSA.
If you would like to speak to Nicholas Psarros or one of our other Pilates Instructors about starting Pilates or if you need any further details on our approach to Pilates you can contact us on:
(03) 0039 1289